Flipper's Roller Boogie Palace Peak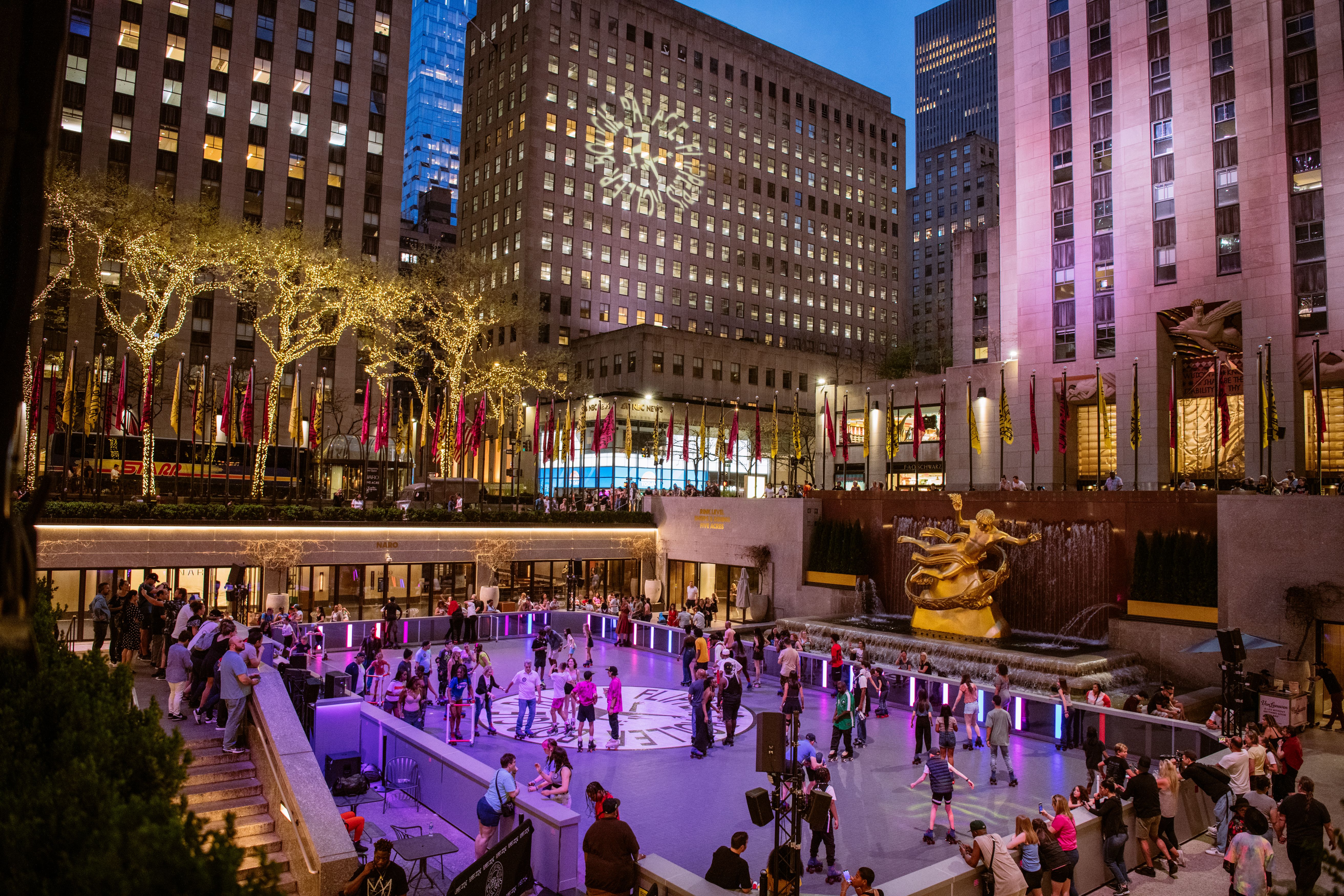 TOUR DESCRIPTION
The Rink at Rockefeller Center transformed into a fun for all roller skating experience by Flipper's Roller Boogie Palace - now through October 2023. Experience the exhilaration of roller skating set at one of the most iconic NY landmarks with music that will get you moving. This rink is family-friendly, and beginner skaters are encouraged!
Experience:
• Roll through Rockefeller Center, immersing yourself in the heart of NYC
• Be mesmerized by the spectacular light show that illuminates the skating rink during evening hours
• Don't worry about bringing your own skates, high-quality roller skates are available
Entry to Flipper's Roller Boogie Palace at Rockefeller Center
1-hour skate session
Roller skate rental
Safety skate guards available upon request at an additional cost
Lockers are complementary and first come, first serve
Food and drinks are available for purchase at an additional cost
MORE INFORMATION
Flipper's Roller Boogie Palace Peak
Get ready to lace up your skates and immerse yourself in an electrifying roller skating experience at Flipper's Roller Boogie Palace, located at the iconic Rink at Rockefeller Center in the heart of New York City. Whether you're a beginner or a seasoned skater, this family-friendly venue welcomes all levels of expertise with daily skate sessions and programming now through October 2023.
As you step onto Flipper's rink, the pulsating beats will invite you to move and dance as you glide across the floor. A true New York City experience, spend an afternoon or evening skating under the lights of the city and surrounded by the architectural beauty of one of the most famous city landmarks.
Flipper's ensures a hassle-free experience by providing high-quality roller skate rentals, so you can focus on the fun without worrying about equipment. Lockers are complementary and first come, first serve. Skate Trainers and protective wear is also available for those that need support while skating.
Make sure to capture the magic of this unique experience by snapping photos of your roller skating adventure. Share your vibrant moments with friends and family, reliving the excitement and joy that radiates from the rink. These memories will be cherished long after you've left the glittering lights of Rockefeller Center. #FlippersNYC
So, put on your dancing shoes—well, roller skates—and join us at Rockefeller Center for an upbeat roller skating experience that will transport you through music, dazzling lights, and pure exhilaration. Get ready to move, spin, and skate your way through a night of unforgettable fun in the heart of NYC.
600 5th Ave, New York, NY 10020
Hours of Operation:
Open April-October Peak
Thursday and Fridays after 6 pm All day Saturday and Sunday
You must present your mobile voucher at the box office for entry
Blackout Dates/Times:
June
27th - 5:30 pm-7:30 pm
28th - 4 pm-7 pm

July
12th - 6pm-9pm
13th - 5pm-9pm
18th - 5pm-9pm
19th - 3pm-8pm
20th - 5pm-9pm
23rd - 12pm-3pm
28th - 6pm-9pm

August
4th -18th potentially closed