Unlimited Biking - Monument at Night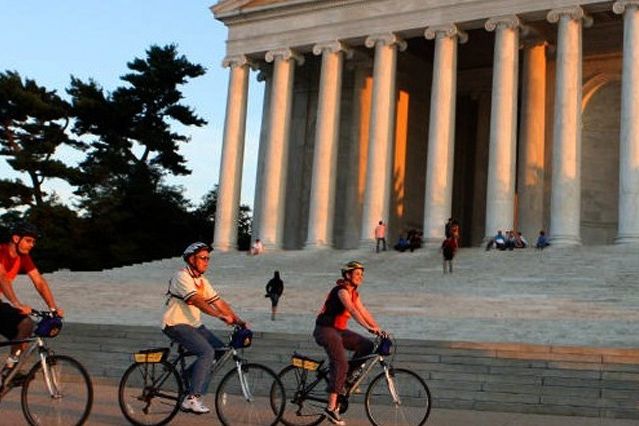 TOUR DESCRIPTION
The Monuments & Memorials Bike Tour is the ultimate Washington DC Highlights bike tour everyone should take during their visit.
This 3-Hour guided tour covers the iconic monuments and memorials on the National Mall and Potomac Tidal Basin. Your guide will share in-depth commentary, history, and fun facts at each stop, allowing for a few minutes of exploration and photos! No other tour in DC will get you an up-close look at this many sites in this amount of time. Those on foot will envy you!
On this tour, you will see the Washington Monument, Vietnam Veterans Memorial, World War II Memorial, Lincoln Memorial, Jefferson Memorial, new Martin Luther King Jr Memorial, and more! Ideal for families, friends, and couples, with riders of all ages!
MORE INFORMATION
Location:
The tour begins and ends at our National Mall location at 998 Maine Avenue SW Washington DC 20024
Hours:
November-March: 4:30 PM
April-October: 6:30 PM
Instructions:
Availability for the tour is on a first-come, first-serve basis, so there is no need for any reservations!
Visit our store at 998 Maine Avenue, Washington DC, 20024, as early as you can on the day to sign up for the tour.
Please bring your Pass, ID, and Credit Card to our store location when you come in.