Las Vegas Big Bus Discover 1 Day Ticket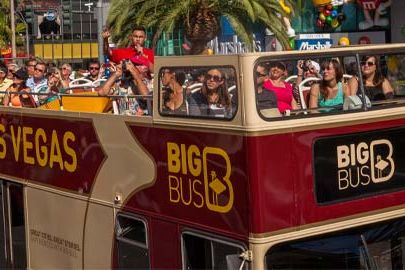 TOUR DESCRIPTION
Enjoy the Strip tour and hop on and off around Las Vegas, experiencing the breathtaking architecture, acclaimed attractions, and more than a just a few hidden gems.
Of course, no tour of Sin City is complete without a visit to the ultimate must-see sight, the world famous "Welcome to Fabulous Las Vegas" sign. As Big Bus takes you around the city, you'll discover the real Vegas Story.
The downtown portion of the route transports you away from the Strip, down Wedding Row and to Old Downtown into the Fremont Street area. See the Fremont Street Experience, Fremont Street East and discover the story of the people and events that have contributed to the city's growth into the ultimate adult playground.
MORE INFORMATION
Las Vegas Big Bus - 1 day Classic HOHO tour
3791 S. Las Vegas Blvd, outside American Eagle store
Daily from 10 am to 5:20 pm (buses run approximately every 40 minutes)
Scan passes at the Linq /High Roller Stop (3973 Linq Lane, bus loading zone), with the bus driver or a member of staff at the stop.
Other recommended stops: MGM/ American Eagle, 3791 S. Las Vegas Blvd; Treasure Island - Siren's Cove Blvd (bus stop outside Treasure Island Hotel)
Please note the following service changes for the upcoming weekend:
Service will be suspended on Saturday, June 17th, 2023 due to the NHL Golden Knights Parade taking place in Las Vegas.
Service will resume on Sunday, June 18th, 2023.
Guest are recommended to download the Big Bus App to receive service notifications. For more information, guests and partners can visit our service page HERE