Las Vegas Strip Helicopter Flight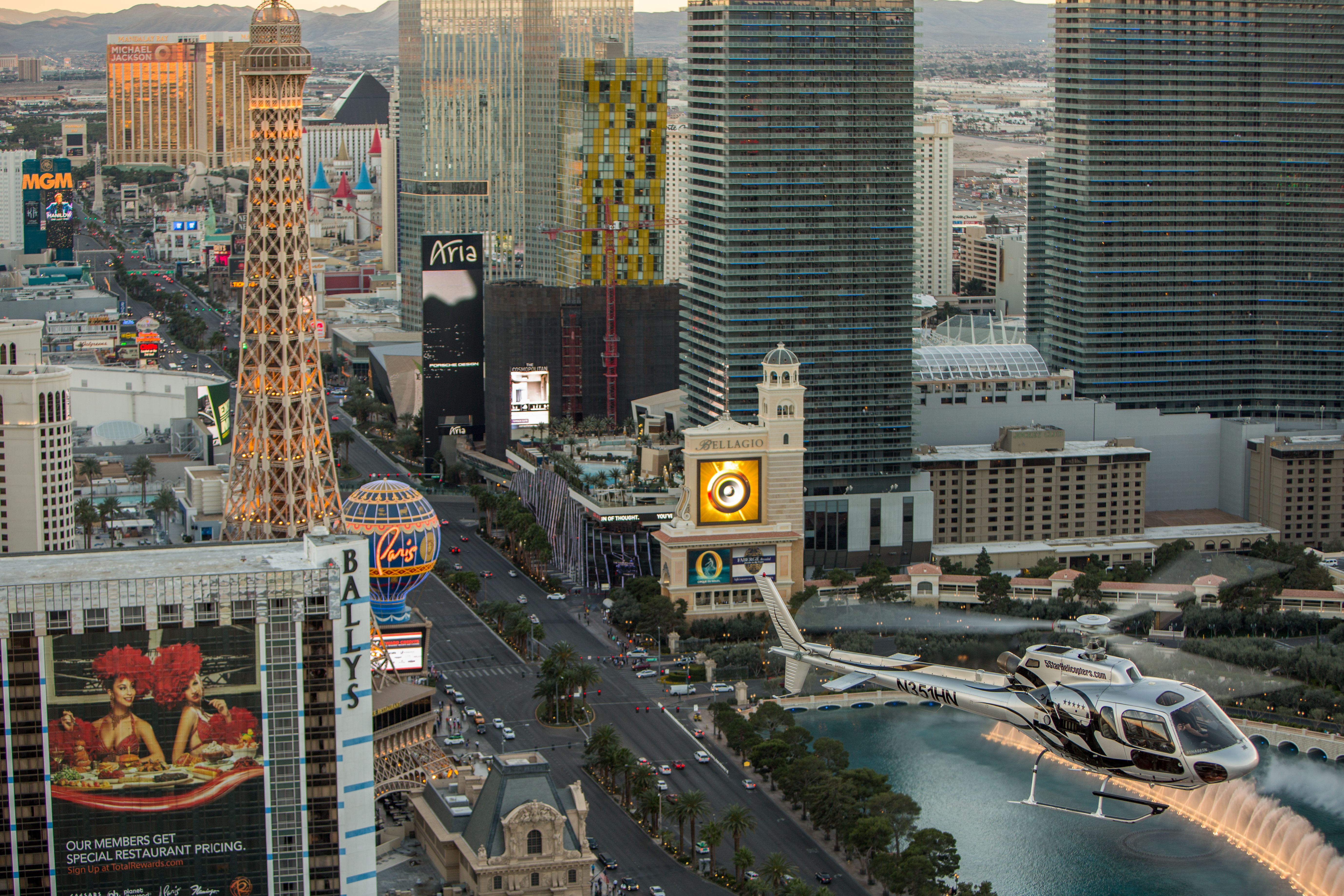 TOUR DESCRIPTION
Departing from the 5 Star Helicopter Tour VIP Heliport in Las Vegas, you will board an Airbus helicopter with forward-facing seats providing 180-degree panoramic views, as you soar over the World-Famous dazzling Las Vegas Strip. Fly past the MGM Grand, HighRoller, Eiffel Tower, AWG Las Vegas Sphere, Venetian, and Wynn Las Vegas before heading Downtown past Stratosphere Tower, Circa, and 1149-foot tall Freemont Street. As you return back down the Strip, see the Resort World, Caesars Palace, Bellagio, City Center, Luxury, and the Raiders Stadium. This will be the highlight of your visit to Las Vegas!
MORE INFORMATION
Las Vegas Strip Helicopter Flight
RECONFIRMATION: Reservations must be reconfirmed 24 hours in advance of the applicable tour day/date/time by calling: 702-565-7827 (7.00 am to 10.00 pm PST). Failure to reconfirm your applicable tour day/date/time may result in you being off-loaded from your originally booked tour.
COMFORT & SAFETY: In the interests of comfort & safety, passengers exceeding 250 Lbs (112 Kg) will be required to purchase an additional seat at 100% of the applicable retail price. Due to weight restrictions seat assignments cannot be guaranteed. Passengers exceeding their stated body weights may be off-loaded at the time of check-in. Requests cannot be guaranteed and are subject to aircraft weight & balance safety compliance.
PHYSICALLY CHALLENGED PASSENGERS: Physically challenged passengers must be accompanied by an able-bodied person who can physically lift the physically challenged person at least 48 inches (76 cm) above the ground into the helicopter. INFANTS: Infants must be under 2 years of age. Proof of infant age will be required at the time of check-in.
VALID IDENTIFICATION: All passengers are required to present a valid photo identification at the time of check-in. This can either be a Government issued passport or a Driver's license.
REDEMPTION: A voucher is required to be presented at the time of check-in. This must include the Passenger lead name, number of passengers, and billing information. Passengers will be required to sign & date the applicable Sightseeing Pass Voucher.
Tour Address: 5596 Haven Street, Las Vegas, Nevada 89119 USA
Hours of Operations: 8 pm - 12 am. Reservations 7.00 AM TO 10.00 PM PST
Blackout dates: 11/16/2023 THRU 11/18/2023