Golden Gate Park All-day Bike Rental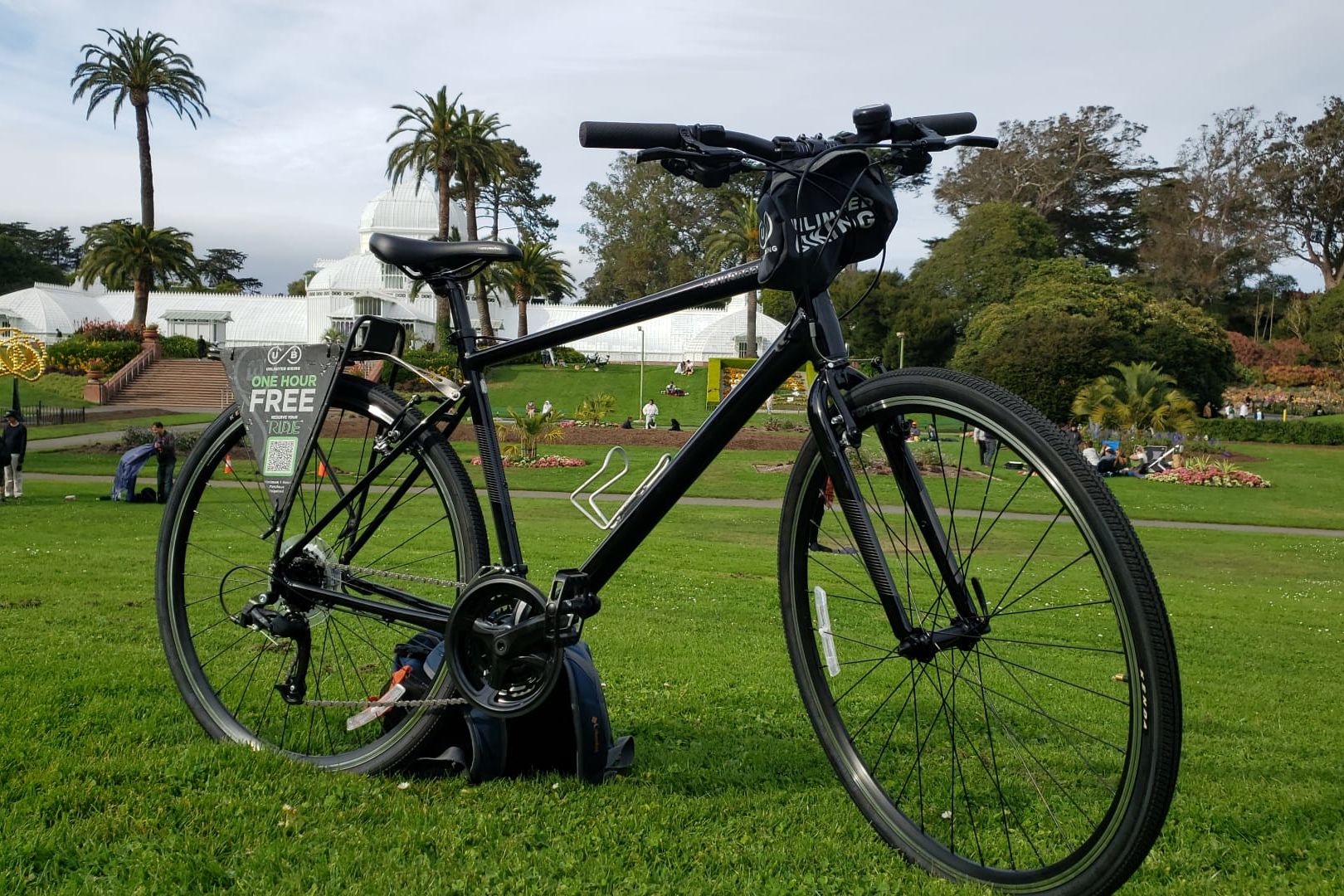 TOUR DESCRIPTION
Explore San Francisco's famous Golden Gate Park, with tons of sights and landmarks along with its beautiful bike paths - or see both the Park and the Golden Gate Bridge on one amazing, mostly flat 9-mile bike ride! Unlimited Biking will arm you with all you need for your adventure - a helmet, a map, a bike bag/basket, and a bike lock, all free of charge – you just supply the need to explore! Visit all of the highlights of the park including Stow Lake Boathouse, Academy of the Sciences, de Young Museum, Conservatory of Flowers, Botanical Garden, Rose Garden, Dutch Windmill, and more! Golden Gate Park has a paved trail of around 4 miles from one end of the park to the other!
After your ride, you can return back to our shop, or head towards the Golden Gate Bridge. Bikes can be returned at any of our locations.
Cannondale bike rental (eBike Upgrade)
Helmet, basket/bike bag, lock and map of the area.
MORE INFORMATION
Golden Gate Park All-day Bike Rental
We offer bikes for everyone, including eBikes, Kid's Bikes and Tandems. Additionally, we have tag-a-longs and trailers available for families with young children.
What you'll see:

Explore the Japanese Tea Garden and learn about the history of the Hagiwara family.
Stop at the California Academy of the Sciences, one of the largest history museums in the world.
Lock your bike outside and explore the de Young Museum, a Fine Arts museum
Stroll through the Conservatory of Flowers and Botanical Garden.
Take photos with the Dutch Windmill, one of the iconic attractions in the park.
Unlimited Biking, 1792 Haight Street, San Francisco CA 94117
Hours of Operation:
April 1st - October 31st: 9AM-7PM
November 1st - March 31st: 9 AM-5 PM
Present your pass at the ticket counter. Please bring your valid passes into the store location any time after opening time to check-in. No need for reservations. Guests are required to bring an ID and credit card. No hold will be placed on the credit card.