Circle Line Landmark Cruise (1.5 hours)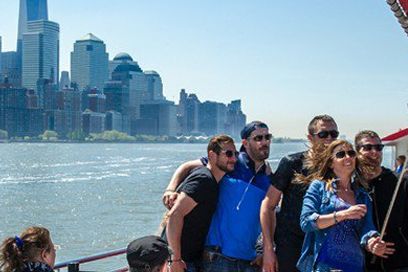 TOUR DESCRIPTION
You'll undoubtedly recognize Lady Liberty and Brooklyn Bridge, but your expert guide will add to your knowledge of the city by pointing out other places along the way such as the 'Titanic' Pier, USS Intrepid and Wall Street as he weaves them all into the fascinating narration about Midtown and Lower Manhattan.
MORE INFORMATION
Circle Line Landmark Cruise (1.5 hours)
No reservations required. We recommend arriving 30-45 minutes ahead of departure time to secure the best possible seats.
Tour Length: 90 Minutes
Departure Times:
Jan 1 - Mar 18: Daily: 12:00pm
Mar 19 – Dec 31: Daily: 12:30pm & 3:00pm
Departure Location: Pier 83 (West 42nd Street & 12th Avenue)
Circle Line now offers a mobile translation app available in both iTunes (Apple) and Google Play stores. The app is called "Circle Line Sightseeing" and it is free to download and use.

This app will provide non-English speaking guests with a guided tour experience for the Landmark Cruise. Current languages include Spanish, French, and Portuguese. They will be adding German, Italian, and Chinese later this summer.
Please note if you need to modify your reserved time and date reach out to the call center at 1-212-445-0848