Circle Line Liberty Cruise (1 Hour)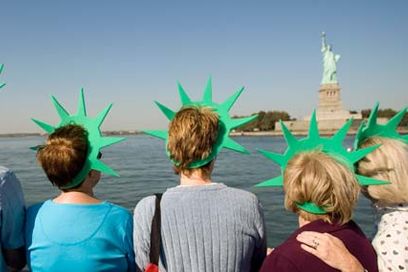 TOUR DESCRIPTION
The Statue of Liberty is famous the world over – which is why there are always crowds of tourists waiting in line at her feet.
Nothing beats the view of her and Liberty Island from a boat on the water just 100 feet away. That's the highlight of this 60-minute cruise.
Your entertaining guide will be a mine of information and stories especially about Lady L and the neighboring Ellis Island where millions of hopeful immigrants first set foot in the USA and much more besides.
Make sure your camera is fully charged to capture every spectacular view.
MORE INFORMATION
Circle Line Liberty Cruise (1 Hour)
No reservations required. We recommend arriving 30-45 minutes ahead of departure time to secure the best possible seats.
Please note that the following cruises are sold out.
Tuesday 4/4/2023 at 10:30 am
Saturday 4/8/2023 at 10:30 am
Tour Length: 1 Hour
Departure Time: Nov 1 - Dec 31: Daily: 10:30am
Departure Location: Pier 83 (West 42nd Street & 12th Avenue)
Available Tour Languages: English
Circle Line now offers a mobile translation app available in both iTunes (Apple) and Google Play stores. The app is called "Circle Line Sightseeing" and it is free to download and use.

This app will provide non-English speaking guests with a guided tour experience for the Liberty Cruise. Current languages include Spanish, French, and Portuguese. They will be adding German, Italian, and Chinese later this summer.
Please note if you need to modify your reserved time and date reach out to the call center at 1-212-445-0848