Mardi Gras World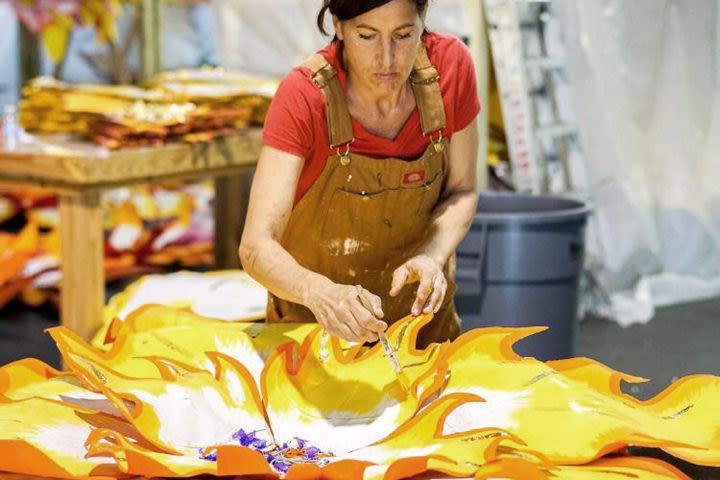 TOUR DESCRIPTION
Our tour allows you to see firsthand what it takes to bring Mardi Gras to life year after year. Walk through the hard work and extensive planning that goes into this grand event when you tour Blaine Kern Studios, an operating workshop that has created breathtaking floats for Mardi Gras and other parades around the world since 1947. On the tour, you'll be paired up with a knowledgeable guide who takes the mask off of Mardi Gras. This all-access opportunity winds you through the massive studio, where artists and architects build Mardi Gras floats from the ground up. You'll learn about the history of this unique and festive tradition, going beyond its reputation to get a deeper understanding of the REAL Mardi Gras. The whole family will love touring the space where our artisans create show-stopping floats for more than 40 parades each year. This New Orleans tour is an experience you'll want to document. There are so many photo opportunities in front of floats, with props, or wearing a traditional Mardi Gras costume, so don't forget to bring your camera! And bring your appetite, too: every tour comes with a slice of King Cake (which is a real delicacy, as it's hard to find out of season!).
MORE INFORMATION
Mardi Gras World
1380 Port Of New Orleans Pl, New Orleans, LA 70130. HoHo Stop 16
We're open 7 days a week, from 9:00am to 5:30pm, with our first tour beginning at 9:30am and our last tour beginning at 4:00pm. Tours run every 30 minutes.
Please present your Pass to the the cashier in the Gift Shop on the day of your tour. Your Pass must be valid on the day of the tour.